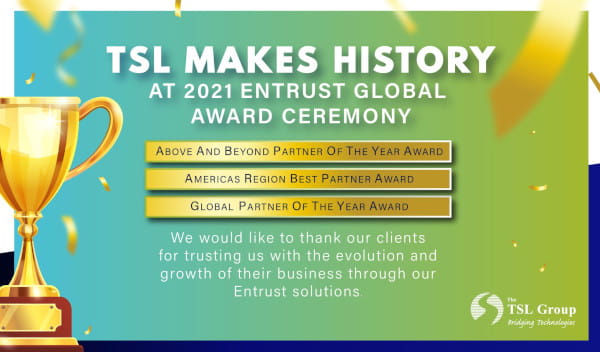 Over the years, Trinidad Systems Limited has been blessed with team members who are constantly pushing boundaries, are results-driven and ready to go the extra mile for customers.
In the last year, we have been faced with constant unexpected obstacles, yet, through it all, team TSL has been able to turn these obstacles into opportunities. TSL's partnership with Entrust has been a testament to this.
This partnership with Entrust enables our clients to evolve with the changing digital world. Entrust (formerly Entrust Datacard) is a company based in Minneapolis, USA and is a global leader in digital security and credential issuance solutions. They have a partner network of over 2,500 and operate in 150 countries worldwide. Our local Entrust team truly stepped up this year and proved that with team collaboration and dedication to a common goal, our achievements can be limitless.
It is with great pride and excitement that we announce our triple win at the 2021 Entrust ReImagine Virtual Partner award ceremony. Every year, Entrust awards their top performing partners all over the world for their exceptional efforts. We were up against companies from Europe, APAC, Africa and the Americas and TSL walked away with the top 3 awards.
First was the Entrust Above and Beyond Partner of the Year Award for overcoming the challenges of covid-19, closing some large strategic deals, and implementing multiple solutions from the Entrust portfolio to our regional clients. Even with the pandemic restrictions, we were able to expand our regional reach in providing digital payment solutions with only remote support from the US based Entrust team.
Next was the Americas Region Best Partner Award for the implementation of card solutions for two of the top banks in Trinidad and the Caribbean region. Up against the rest of LATAM, our team came out on top as we have consistently met our quotas and exceeded expectations in our territory. We would like to thank our loyal clients for trusting us with these major projects during a time of a lot of uncertainty.
Lastly, the Global Partner of the Year Award that spans across Europe, the Middle East, APAC, Africa and the Americas and is awarded to the best performing Entrust partner overall. For the first time in 3 years, the winner of this award hails from the Americas region which is a tremendous honour for us here at TSL. Our small team went above and beyond in embracing the entire Entrust portfolio and finding opportunities for success in the midst of all the challenges.
TSL has been an Entrust partner for over 20 years, so winning these awards speaks to the strength and resilience of the relationships we have built with the company over the last two decades. Through this relationship, we are able to offer our clients top of the line services and the most innovative solutions to allow them to grow, even during the most testing of times.
Our success would not be possible without our team - Dion Leanza, our Lead on all Entrust business and Andre Pantin, our Card Technologies Supervisor. When asked about how he was able to execute these projects in these times and how he felt learning about the wins, Dion said, "Hard work, dedication and great long-term relationships with our customers. My jaw dropped a little further with each award and the goosebumps came with each announcement and I couldn't wait to share the news [with the team]"
Dion also shared his hopes for the future of TSL and Entrust, "I have been with TSL 25 years and in turn with Entrust/Datacard 25 years. I hope to continue growing with them and providing our customers with the best Global vertical market solutions."
Alongside Dion is Andre Pantin, who works on the technical aspect of our Entrust projects. Speaking with Andre on what he enjoys most about working on these projects, he said, "Honestly, I enjoy the challenge of these big installs. The installation of a Central Issuance System actually takes months of planning between many departments, including the logistics department and our very capable project manager, Kevah-Marie Modeste."
Many teams that work on hands-on projects found it difficult to execute this year with so many restrictions and limitations on access to their clients and workspaces. On how he was able to work around these challenges, Andre said, "With the right team anything is possible and TSLers are very resourceful. No job is too much for us to overcome successfully, that's just who we are."
Team TSL could not be prouder of what we have been able to accomplish in these Covid times and we look forward to working with all our clients with this enthusiasm and commitment.