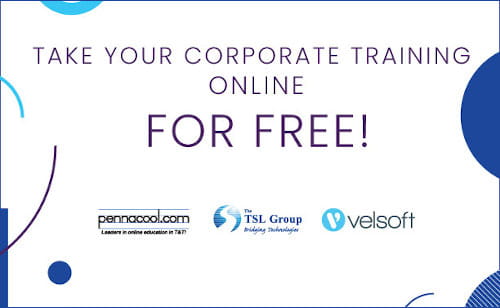 As Coronavirus spreads, Pennacool.com and Trinidad Systems Limited are ensuring it is business as usual by offering organisations to move their corporate training on-line for free.
As the coronavirus continues to affect travel, major public events and global stock markets, Pennacool.com and Trinidad Systems Limited are committed to ensuring that staff training, productivity and development continue in the workplace. We are being called to practice Social Distancing, which means a lot of in-person trainings will be discontinued. Together with our partner Velsoft, we are offering unrestricted access to our Learning Management System for companies, organisations and schools seeking to take their training online and dealing with the problems caused by the virus.
From now until the end of April 2020 we are offering organisations free access to our LMS platform where they can conduct virtual meeting, staff training and virtual classrooms. Velsoft is a leading provider of customizable training materials, enabling customers to deliver high quality and engaging content to their staff or students, using proven materials that can be edited to suit any training situation or audience.
Trinidad and Tobago have nine confirmed cases as of today, and the current expectation is that the virus will continue to spread throughout the world disrupting the daily lives of those in the affected countries. Companies are frantically establishing contingency plans but the coronavirus continues to move faster than their preparations. It is expected that if remote working were to become necessary in Trinidad and Tobago, many companies and especially academic institutions would require solutions that allow business and curriculum continuity. With regards to students, we have seen that moving classes online is the number one-way academic institutions are responding to the COVID-19 outbreak.
"The Management of The TSL Group have been meeting to see how we can prepare for any eventualities and our main concern is ensuring the safety of our team members, their families and clients who have to visit our premises. We have put in place Work From Home policies for our team members who are able to do this and to ensure that we flatten the curve, we are encouraging everyone to meet via Microsoft Team, Zoom or Webex.," notes CEO Stuart Franco. "We also think this is the best time to get our team members up to date on their certifications, trainings and procedures, through the online learning management systems," says CEO, Stuart Franco.
Working remotely has quickly become one of the quick fixes with companies attempting to shield their staff as the epidemic passes the 229,469 infected mark. The Trinidad and Tobago Ministry of Health is encouraging organizations to put in place work from home policies. For many international organisations working remoting is the norm, locally we are still testing this model in tandem with eLearning platforms. Franco notes that while many organisations currently offer in person staff training, a lot of these training can be done online and now is the time for companies to consider doing so. "All we are hoping for is to help get things back to normal as quickly as possible", Franco adds, "Cancelling or postponing training will have a lasting effect on companies already bracing for impacts likely to reverberate across corporations long after the outbreak is eventually brought under control".
Pennacool and Trinidad Systems Limited are committed to ensuring as much training goes uninterrupted as possible and has begun offering free access to its eLearning platforms for those wanting to train their teams remotely. Until the end of April companies in Trinidad and Tobago can access all course authoring and learning management system software for free with no obligations whatsoever. This access does not include the use of content, content must be uploaded and authored by the requesting organization. Are you looking to take your corporate training and collaboration online? Visit the link below:
https://www.trinidadsystemslimited.com/velsoft_registration.html
For more information contact:
Laeticia Devaux
Marketing Manager, Pennacool
1-868-222-0096
Michael Khan
Vice President- Sales, The TSL Group
1-868-628-9330 EXT 1208
Stephen de Gannes
Vice President – Subsidiaries, The TSL Group
1-868-628-9330 EXT 1210
Stuart Franco
Chief Executive Officer, The TSL Group
1-868-628-9330 EXT 1218