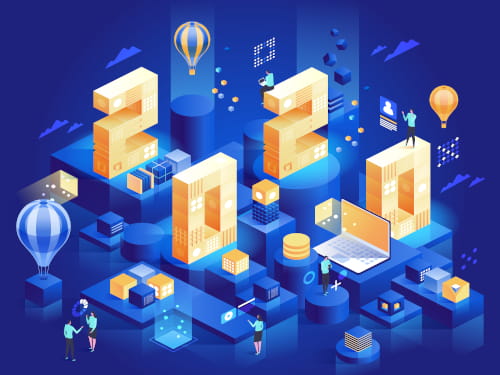 New and emerging technologies have the capacity to change our lives. The strategic use of these technologies have the potential to transform the way we work and the way we do business and this year, there are a few key technologies that will be breaking out from the emerging state and into wider and broader impact and use in Caribbean organizations.
Internet of Things
Millions of "things" are now being built with Wi-Fi connectivity and all our devices are now synced to each other. This eco-system is called the Internet of Things (IoT). The Internet of Things is a network of physical objects accessed through the Internet that exchange data to create an integrated, "smart" experience for users. If you use multifunction printers at work or wear a Fitbit during the day, you're existing within an IoT eco-system that stores lifestyle data you probably didn't even know existed. Having every detail about you stored in the cloud may sound daunting but the technology is evolving so quickly that we don't realize how it is improving our quality of life in such significant ways that we take for granted. While the IoT brings tremendous convenience, we tend to overlook parts of it that have potential to cause great inconvenience i.e. security. Companies are starting to integrate security systems in IoT devices as these have become an easy foot-in for hackers. As the Internet of Things continues to grow, there are many IOT benefits to look forward to. Knowing that there are numerous ways in which the IoT will emerge in our lives, however, makes the need to secure the Internet of Things even more important.
Cyber Security
Cyber security may not technically be an emerging trend, but it is evolving just as rapidly as other technologies are. TSL recently hosted an event entirely focused on cyber security where we had 8 of our partners speak to our audience on the security technology built into the devices and software they produce and the importance of integrating this protective technology with their products. Almost every user device produced by technology companies is an IoT device which means our susceptibility to attacks is far greater than ever before. The more devices we add to our IoT ecosystem, the more gateways we open for hackers to gain access to our networks. The truth is, every advancement within the IT landscape creates security vulnerabilities in new potential points of attack. A crucial element of an organization's cyber security strategy that is often overlooked is People Power. The commitment of your people to protecting the organization is essential to ensuring solid cyber defence. Part of an organizations cyber security strategy should be creating and developing a positive security culture that is engrained in the attitudes and behaviours of employees. Educating them on the impact of lack of vigilance goes a long way in protecting the organization from threats.
FinTech
The term FinTech is used to refer to innovations in the financial and technology crossover space, and typically refers to companies or services that use technology to provide financial services to businesses or consumers. At its core, FinTech is utilized to help companies, business owners and consumers better manage their financial operations, processes, and lives by utilizing specialized software and algorithms that are used on computers and, increasingly, smartphones. Initially, the term applied to the technology applied to back-end systems used by financial institutions but there has been a shift to more consumer-oriented services and therefore a more consumer-oriented definition. FinTech now includes different sectors and industries and describes a variety of financial activities, such as money transfers, depositing a check with your smartphone, bypassing a bank branch to apply for credit, raising money for a business start-up, managing crypto wallets and managing your investments using software and applications.
Technology in Agriculture
Agriculture is quickly evolving through innovation in science and technology; however, the agriculture industry continues to be called upon to produce more with limited resources. Major technology innovations in the industry have focused around areas such as indoor vertical farming, livestock technology, temperature and moisture sensors, aerial images, GPS technology, modern greenhouse practices and precision agriculture using technology such as artificial intelligence, automation and robotics and blockchain. A major way to improve traceability, sustainability, and quality of goods from a farm is through the adoption of technology. These advancements in agriculture allow farmers to maximize land and water resources and extends their overall capacity, automate routine tasks typically done by humans, and allows farmers more time to do things computers can't. The integration of emerging technology into these systems are truly meant to empower farmers to make decisions based on data and real-time analytics. As the effects of climate change continue to affect the industry in the Caribbean, it is imperative to the future of our food that we adopt solutions that allow our farmers to mitigate loss of produce.
Business Intelligence
According to Tableau, Business intelligence (BI) combines business analytics, data mining, data visualization, data tools and infrastructure, and best practices to help organizations to make more data-driven decisions. Simply put, BI takes data from various sources and helps organizations understand their data to effectively inform strategic and tactical business decisions. Over the past few years, business intelligence has evolved to include more processes and activities to help improve performance and these include Data Mining, Reporting, Performance Metrics and Benchmarking, Descriptive Analytics, Querying, Statistical Analysis, Data Visualization, Visual Analysis and Data Preparation.
The use of BI has tremendous benefits to an organization but most notably it helps to identify ways to increase profit, analyze customer behaviour, compare data with competitors, track performance, spot market trends and discover issues or problems. As modern companies aspire to be more data-driven, efforts to share data, and collaborate will surge as we begin to understand the obvious benefits of implementing systems and solutions that give a clearer understanding of how well we are running our organizations and how to better meet goals.