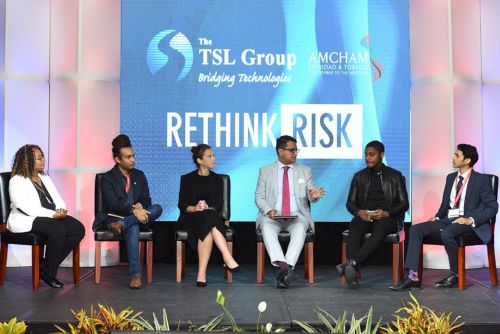 With new technologies emerging every day, cyber threats are almost impossible to predict and manage. Even with record levels of security spending in 2019, breaches and attacks are happening as rapidly as cyber security technology evolves.
On October 24th 2019, TSL joined forces with AMCHAM at their 23rd Annual HSSE Conference at the Hyatt Regency, Trinidad where we took over their cyber track which we called Rethink Risk. Rethink Risk was a focused event dealing with cyber security trends and strategies that Caribbean organizations should be implementing in this age of digitization. We had eight (8) feature speakers from our vendors (Check Point Software Technologies, Xerox, Hitachi Systems Security Inc, A10 Networks, Cisco, Dell, Commscope and Entrust DataCard) who are some of the largest technology corporations in the world and are leaders in their fields.
Our first keynote of the day was presented by Maya Horowitz, Director/VP of Threat Intelligence and Research at Check Point Software Technologies based in Tel Aviv, Israel. Before assuming her role at Check Point, Maya served 10 years as a senior officer in an intelligence unit of the Israel Defense Forces and holds a master's degree in psychology and biology (psychoneuroimmunology). Maya's presentation titled, "Hacking Like A Disney Villain" broke down the most common cyber threats by associating them with popular Disney movie villains. For example, the villain in Snow White represents Phishing, which is the practice of sending fraudulent communications that appear to come from a reputable source which usually presents itself in the form of an e-mail. Our presenter from Xerox, Cyndi McLean, Director of Cyber Ops and Engineering delivered an intriguing presentation titled, " The Cyber Security Arms Race: Who Will Win?" where she shared on the importance of implementing cyber security strategies with vigilance, emphasizing on strategy simplicity, and creating a culture of cyber security awareness amongst staff.
Rethink Risk also included an engaging and impactful panel discussion on Managing Cyber Risks in the Age of Digitization where our participants from Check Point, Xerox, PwC, M. Hamel-Smith & Co. and Tech Beach Retreat shared on how they tackle the challenges and threats associated with the adoption of advanced and evolving technologies in their respective industries. Our moderator, Nirad Tewarie, CEO of AMCHAM, even got the audience involved in the discussion where guests from Trinidad and Tobago Central Bank and UDECOTT gave some insight as to how cyber security strategies can be applied to protecting mobile banking apps and eWallets and advised that organizations in the region foster collaboration amongst ourselves (organizations and countries) to achieve the digital transformation we talk about year after year.
While all speakers spoke on cyber security from differing angles, an over-arching message heard throughout all presentations was cyber security awareness and education amongst employees. Everyone mentioned People as the weakest link in organizations' fight against cyber threats. They encouraged the audience to invest time in educating and sharing knowledge on the implications to business operations if the organization were to come under attack to foster a culture of commitment to protecting the organization from cyber threats.
We wrapped up the day with a lively mix and mingle cocktail session hosted by our partner, Xerox, where we had Xerox WorkPlace Assistants fully equipped with ConnectKey cloud technology on display for our guests to demo on the spot.
The feedback on Rethink Risk has been overwhelmingly positive which truly makes us feel like regional organizations are heading in the right direction to transform the way we work. The TSL Group is committed to being an agent for change in the regional ICT arena and will continue to host educational and knowledge-sharing focused events on emerging technologies for IT professionals and non-technical decision makers.