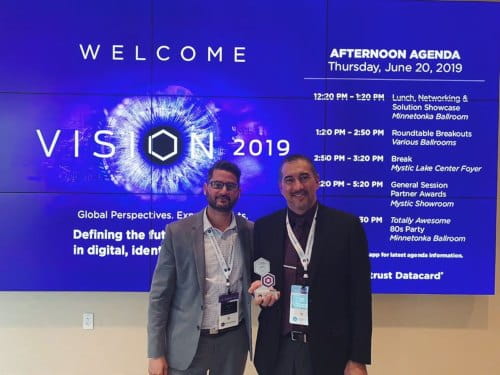 The TSL Group was honoured with the award of Quota Achievement for the second year in a row at the recently held Vision 2019 conference in Minneapolis, hosted by one of our partners Entrust Datacard. Our Group Vice President of Sales, Michael Khan and our Card Solutions -Team Lead, Dion Leanza, TSL's Entrust Datacard Solution Provider were in attendance were presented with the award.
The TSL Group and Entrust Datacard have been partnering for over 25 years. Since the start of the partnership we have achieved many milestones including our continuous achievement of our quotas for which we have received awards starting from the early 2000's. Through the partnership with Entrust Datacard, we are able to provide innovative Card solutions to the market designed to bring security, reliability and flexibility to banking, corporate and various enterprise institutions.
TSL was involved in the development and implementation of the first EMV Smartcards to be issued by our local Financial Institutions and also the first Instant Issuance of Financial cards solution allowing customers to walk out of their personal branch and have a live debit card that they can use immediately. We were also first to market with the Entrust Datacard line of desktop plastic card printers which have advanced tremendously over the past 25 years.
We are excited about our continued Partnership with Entrust Datacard and we look forward a successful future together.