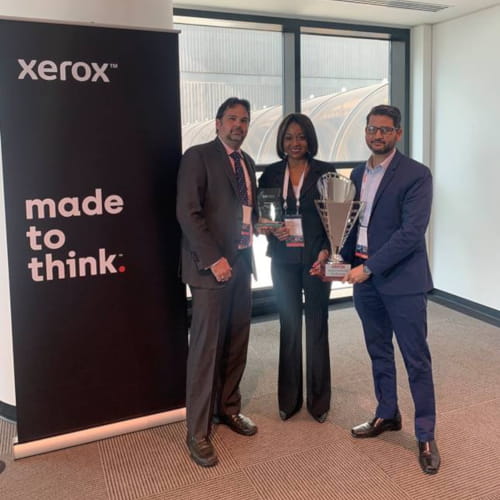 The TSL Group had the honor of receiving the award for Xerox Distributor of the Year for the Caribbean and Latin America & the Equipment Revenue Performance award in our group! Our CEO, Stuart Franco along with Vice President - Sales, Michael Khan and Xerox Sales Manager, Donna Murray visited our friends at Xerox in May at the 2019 Global Partner and Americas Sales Leadership Summit, where they were presented with both awards. This was not our first win, but fivefold, and out of 35 countries in the Xerox Developing Markets Organization (DMO), including the Caribbean and Latin American countries.
The top distributor award takes into consideration significant growth rates in the categories of Office Solutions, Graphic Communications Solutions, Supplies and Parts. In addition to the overall win, TSL won the "Equipment Revenue Performance 2018" Award in a challenging economy with increased targets from the previous year.
These awards demonstrate TSL's commitment to its customers to provide innovative solutions when there is need to do more with less. Xerox's intelligent work solutions offer easier communication and best practice workflows.
This win was incredibly special to us this year especially as 2019 marks our 40th Anniversary in business and is a milestone that represents so much to us. Within the last 40 years we have been lucky enough to build solid partnerships and we are very proud to be a #XeroxPartner and will continue to lead the way in innovation with their support.